– How did you get involved in the church?
– For me, this question is formulated somewhat incorrectly. I did not get involved in the church, I was always in it, one might say, from birth. I come from a village where almost all inhabitants are Catholics, so I inherited my faith from my relatives. I do not have any special history of conversion, for example, in my youth, as happened with many, including those who are from Georgia. I accepted the faith from my ancestors and gladly try to grow in it, improve, deepen it, coming to God.
– Which of the priests played a decisive role in recognizing your calling?
– When I was 12-13 years old – this is about 2008-2009 – and I was already an altar server, a new priest, Father Mikhail Surmava, came to serve us, he began to work with children and youth. So he became for me an example of serving God, including serving people. He remains this example for me now. Father Mikhail, through his ministry, prayer, and life, showed me that one can be happy in the priesthood. He radiated such joy that I also wanted to be so happy. But, of course, human desire alone is not enough here. As a matter of fact, your desire in this matter means almost nothing. Later, I discovered a vocation in me to serve God, people and be truly happy.
– Was it easy or difficult for you to accept the proposal to continue the path of recognizing the vocation in Kazakhstan, and not in any other country?
– In September 2013, I started the pre-seminar in Kutaisi. And then, when I had to go to Kazakhstan to continue my studies, it made no difference to me, like now, which country to go to study. The main thing was that there was a seminary. Of course, Georgia and Kazakhstan are very different. In Kazakhstan, I really like everything, except for the weather sometimes. I loved this country very much over the years. And at the time, when they said that I needed to come here, for me there was nothing more important than the fact that there is a seminary here. I didn't even bother to look for any information about this country: where it is located, what it is. It was only important to find a home here – a seminary. When I say home, I always mean our seminary, because it has become a real home for me. I think that's the way it should be. Whoever we are talking about, it shouldn't matter for a person what kind of country it is, with what culture. The most important thing should be the home – the seminary, through which we become closer to God. Seminary can show you the right path to God.
– What differences have you noticed over the years of your stay in Kazakhstan in the life of parishes here in Kazakhstan and in Georgia?
– Both countries are very interesting, each is unique. I gained a lot of experience through the examples of the ministry of priests in different parishes in both Georgia and Kazakhstan. In Georgia, I visited many parishes, in Kazakhstan, too, in the parishes of all three dioceses and the Apostolic Administration. Each parish and each priest acts differently, although they are in the common body of the Church. All the parishes I have visited have taken me one step further on the path to learning to serve God more beautifully.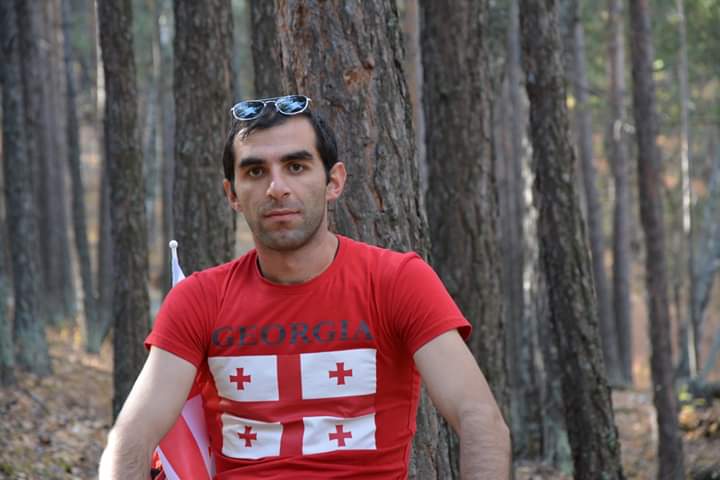 – In moments of despondency or sadness, who and how supported and accompanied you?
Those who know me will tell you that I am a very cheerful person. And I try to share this cheerfulness with others. But, of course, even the most hopeless optimist faces difficulties. It is impossible otherwise, because difficulties teach us something and give us experience that will be useful to us in the future. I always try to enlist the support of other people in difficult moments in my life. In Kazakhstan, the spiritual fathers always helped me: Fr. Joseph Stavarsky is an excellent priest and spiritual father, Fr. Peter Sakmar is the current spiritual father of the seminary, Fr. Viktor Messmer has been my confessor lately. The former rector of the seminary, Fr. Piotr Pytlowany and the current rector – Fr. Pavel Martyniuk, who always gives such advice that brings good fruits. Of course, I keep in touch with the priests from Georgia – with the rector of the parish, with various friends-priests, with Fr. Mikhail, whom I have already mentioned. It is especially valuable for me that all these people, whom I have just mentioned, constantly prayed for me and continue to pray. I think that the stage at which I am now – that is, on the threshold of being ordained to the deaconate – is largely due to their merit. I mentioned above only the priests, but my friends — seminarians and ordinary laymen from Georgia and Kazakhstan — helped me constantly. In recent years, Fr. Pierre Luigi, he and I helped each other in learning Russian.
– Considering all the joyful and sad events in the church in Kazakhstan, in Georgia and in the world in general, what would you recommend to young guys thinking about calling to the priesthood?
– Very often people ask why I chose the path of the priesthood, but in reality it is not we who choose, it is God who chooses us, and it depends on us whether we will answer His call. If we accept this call, then we can go to great happiness. Naturally, our thinking can change over time. And if we talk about the problems the Church is facing, then we must admit that people make mistakes in the Church. And this is good to some extent. Because if a mistake is made, then there is an opportunity to correct it. And it is you who can correct it through your ministry, through your example, to change the thinking of other people. The church is based on God. If you run away from your vocation, then you will not be able to find happiness, you will be constantly restless. You need to open yourself to God and look for God within yourself.
– About what or more precisely about whom is your master's thesis? Why did you decide to write about this person?
My work is still in progress. It is about a Georgian priest, Peter Kharischirashvili, who founded a monastery in Turkey and fought for the return of the church in Georgia to the Latin rite. He did a lot of good in this monastery. During the time of slavery, they bought children, not to enslave them, but to educate them and then release them, free them upon reaching adulthood. To this day, there are several families from this monastery. As for the struggle for the Latin rite, here we are talking about the period when tsarist Russia captured Georgian priests who served according to the Latin rite, after which Rome was forced to transfer Georgia under the tutelage of the Armenian Catholic Church, which introduced its rite in Georgia. The reverse process – that is, the Latinisation of the rite – was not welcome, so Fr. Peter had to go to Turkey, where he founded a monastery, and from there he acted, sending priests to Georgia. It is thanks to them that we now have the Latin rite. Among these priests was the priest Emmanuel Valdidze, who served in Kazakhstan and even helped in the construction of the Church of St. Joseph in Karaganda. Through my work, I want to show the new Georgian priests and youth that even the efforts of just one person can bear serious fruit when it comes to transformations, even if these transformations are very serious. Of course, when it comes to actions pleasing to God. Fr. Peter Khaischirashvili is an example for me of a real priest who must give everything to the Lord and his country. And I decided to write about him after a very interesting incident, which is even difficult to explain. Once I was in Turkey as a tourist and visited the monastery that he founded, where he is buried. When I stood at his coffin, I understood everything, although I knew nothing at all about him then. After returning to Georgia, I began to look for information about him, to learn something. And to this day I continue the research to tell others about him as an example of great and selfless faith.