Exactly sixty years have passed since the day when, on April 28, 1962, three sisters from the Congregation of the Poor Infant Jesus came from Latvia to help the Catholics exiled to this region with their ministry. They were the first sisters to come on a mission to a Soviet-ruled country. Many priests could tell about the miracles that happened during the years that the sisters served on the territory of Kazakhstan. But personally, I was a witness to an episode that I would like to tell you about.
I first met the sisters of the Poor Infant Jesus in Makinsk in 1993. At that time, we no longer had to hide, but if the priest was not introduced to any well-known, trustworthy person, it was necessary to prove that he was a real priest. The sisters, by that time already elderly, huddled in their shelter – a house so unfurnished and poor that it is hard to even imagine it. They were worried because they felt that the strength was leaving, and they could not be [restored to health, or replaced by other sisters?, and they only asked me to pray for vocations.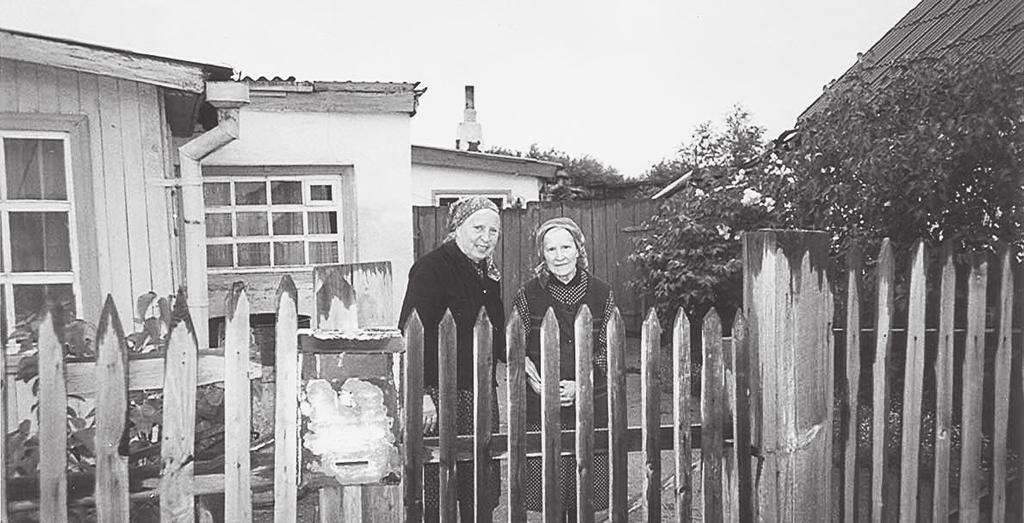 The following year, I again came to Kazakhstan to establish a pre-seminary in Karaganda, 400 km away from Makinsk. With a dozen candidates, we moved from one village to another to talk about the vocations and ask everyone to pray for it. The trip lasted ten days, we lived in our minibus, sometimes in the houses of the priests, who welcomed us cordially wherever we appeared. It was a real "van" of God. We visited Astana, Kokchetav, Krasnoarmeysk, Yasnaya Polyana, Oziornoje… Our "voyage" ended in Tonkushurovka. There Fr. Lorenz Gavol found for us in his warehouse, where he collected humanitarian aid, "treasures" sent from Germany – a guitar and chocolate! In those days in Kazakhstan, chocolate was far from affordable for everyone – it was really a precious delicacy…
Returning to Karaganda, we decided to stop for lunch with the little sisters and treat them to our "delicacy". It was May 24, 1994. The date is important because it was the feast of "Virgin Mary, Help of Christians" and at the same time the anniversary of the departure to heaven of Genevieve, the founder of the Roc Estello community, my brotherhood in France. I entrusted this holy woman with the pre-seminary, which was called "St. Mary and Genevieve".
Arriving in Makinsk, we found that the sisters were in complete despair: they told us that they had not heard a Holy Mass for two months, and Fr. Otto Messmer, who arrived on Sunday evening in Tselinograd (this is today's Astana, from which to Makinsk is a distance of 200 km) was hospitalized with severe poisoning and was almost on the verge of death. The Eucharistic bread was running out, and in a few days their provincial had to come to take the sisters to Latvia, because age has already taken its toll, and there was no hope for the future of their service. It seemed that everything was already over – the sisters wanted to complete their earthly journey in that village, close to their community, to which they had given their whole lives, but they had to obey and prepare for departure.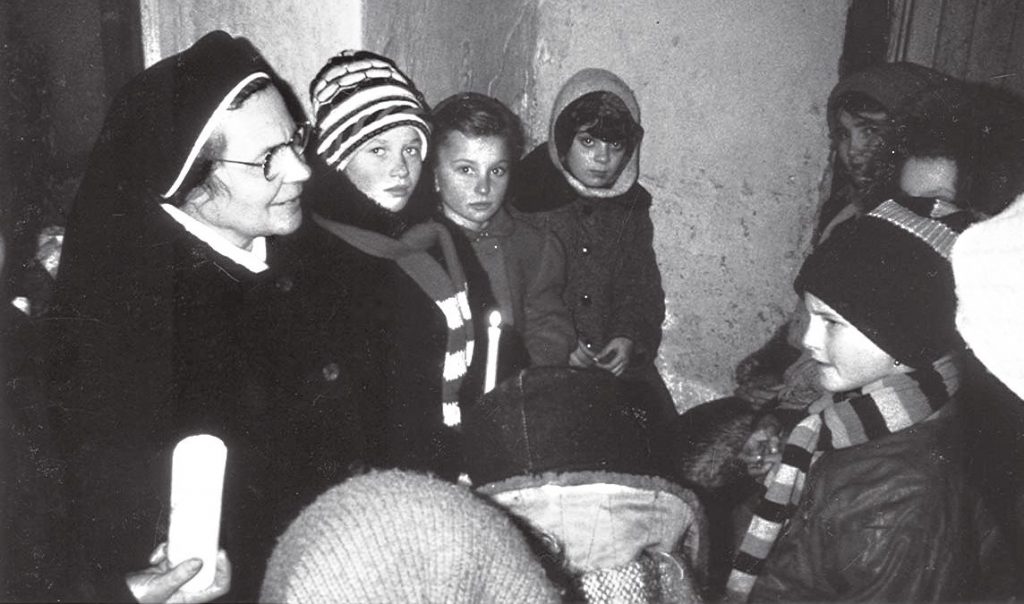 In the face of such despair and such faith, we changed our plans: the question of a trip to Karaganda was no longer an issue. We all headed to the church to celebrate Holy Mass and replenish the supply of Eucharistic bread. St. Joseph, guardian of the Holy Family, seemed to be smiling from behind the altar. I was truly inspired as I spoke these words: "My sisters, you must pray to Genevieve. You did not know her, but today is her birthday in heaven, and it is thanks to her that I am here! And we prayed for Genevieve, with her, through her. In my homily, I don't know why, I told the sisters, "Pray with all your might to Genevieve and you won't go anywhere, God won't let that happen. There will be several vocations, and soon there will be a monastery!". These words sounded crazy, but I had no doubt… "Everything is possible for him who believes". After a thoughtful treat, we returned to Karaganda. Meanwhile, at the same time, on May 24, in Moscow, the archbishop signed a decree on the admission of the first seminarians from Kazakhstan, among whom was our friend Valery, who had already received ordination to the priesthood … And the next Sunday, so far away from here, in Poland, Piotr Pytlowany was ordained, who soon arrived in Makinsk and in September 1995 became prior there, and later was the rector of the seminary in Karaganda.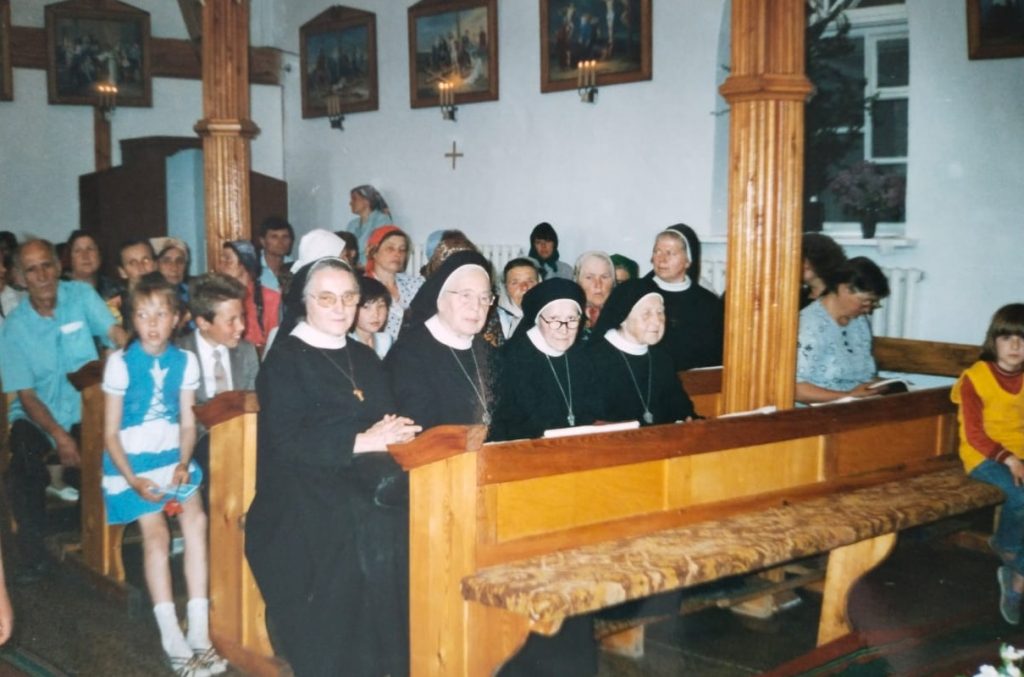 Three or four years later I first met Fr. Piotr, who told me that he was a priest in this village. I asked him about the sisters. He said that, quite unexpectedly, the superior decided to delay their return to their homeland. In addition, three young girls from Pavlodar appeared, who came to Makinsk in search of a community in which they could fulfill their vocation to a consecrated life, and decided to stay there: that is why the construction of a new monastery was started!
In September 2001, despite the recent terrorist attack in New York, Pope John Paul II visited Kazakhstan. In Astana, on the square where the main Mass was celebrated, I met with the new sisters, blessed them and told them about that amazing day…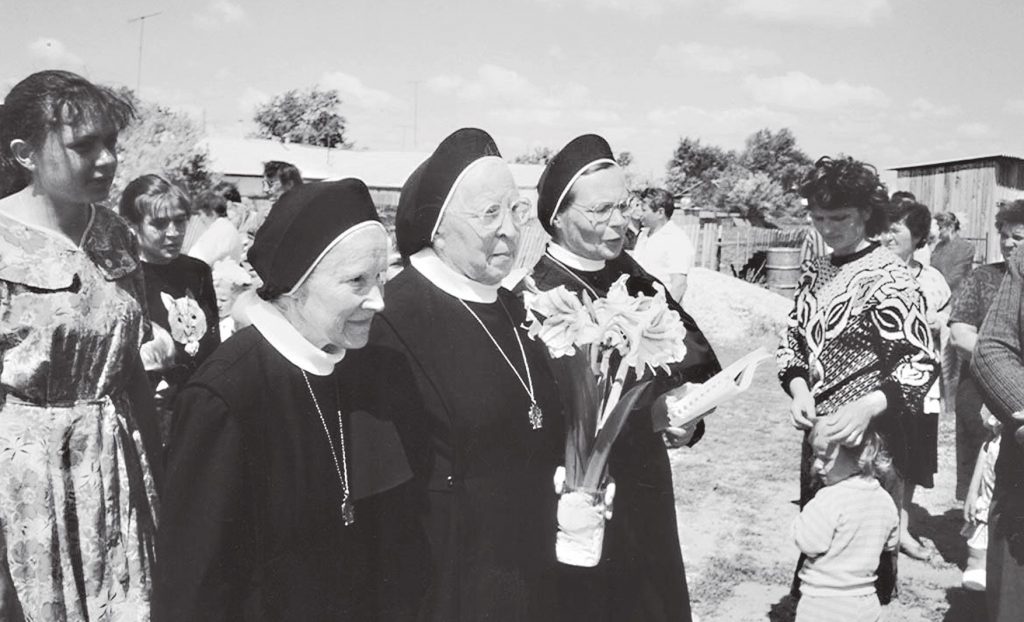 Srs. Maria Kosmas, Maria Joseph and Veronica have passed away – they returned in peace to the Father's house and, probably, were handed over to St. Joseph. Fortunately, Teresa Pia, a faithful witness to those events, is alive. "Your (Thy) mercies, Lord, I will sing forever, to generation and generation to proclaim Your faithfulness…", these words from the psalm sounded at the celebration of the fiftieth anniversary of consecrated life in Kazakhstan… Thank you, Lord, for giving us the opportunity to be witnesses of Your miracles and Your fidelity…
Fr. Pierre Dumoulin
Editor's note: Unfortunately, a few years ago, the Order of the Sisters of the Poor Infant Jesus had to suspended its activity in Kazakhstan, and the sisters went on to serve in other countries.