Woman, priests, prayer, labor  camp, church, prison, love – this is not a task to find an extra word and words not torn from the description of a detective plot. These are the associations that arise when hearing the name Gertrude Detzel. A woman who helped the priests, sometimes even taking on the service they usually performed, whose prayers were not only very impressive, but were also heard by God, as evidenced by the churches of Karaganda and, perhaps, not only, she went through the labor army and did not betray love for God even in prison, serving a sentence for her fidelity to Him and continue to introduce Him also to prisoners and guards.
We would like to offer you a small testimony about this special woman from  consecrated sister Valentina Schmidtlein: "My family, that is, my parents, grandmother were neighbors to Gertrude's family in the village of Rozhdestvenka. They were very friendly with each other. Gertrude's father often visited the house of my father, who was much younger than Gertrude. When she got to Karaganda, our parents were already there. They met each other, and their communication continued, despite the fact that we lived in the  suburbs, and Gertrude in Karaganda itself, where people from the Volga region were  exiled to. I remember Gertrude from childhood, she visited us for several days every year. When she came to us, she prayed, sang, taught, told stories from the books, prepared children for the First Communion, including me, teaching the Catechism. We loved her very much. Sometimes Gertrude came alone for several days, and sometimes she came only for a day, either with her sister or with Clara Romme. With Clara Romme they always sang in two voices: Gertrude second, and Clara first. At the prayers in Maikuduk, they and another man were the main singers. From that time, many images and pictures remain in my memory, which I keep with love and remember with great joy. I remember how she told us about the Diary of John XXIII in the evenings after dinner, about Pope Pius X and much more. On her visits, she often played the piano and sang, sometimes in two voices with Clara Romme, who also played the piano. I remember that my grandmother often said that she lived like a nun. As a child, my grandmother and I came to Maikuduk. Then, when we grew up, my sister and I went to Holy Mass every Sunday, and at first spent the night  at Gertrude and  Valya's. My sister and I slept on the same bed in the same room as Getrude, and I remember that we were already in bed, and she prayed for a long time on her knees, bowing to the floor during prayer".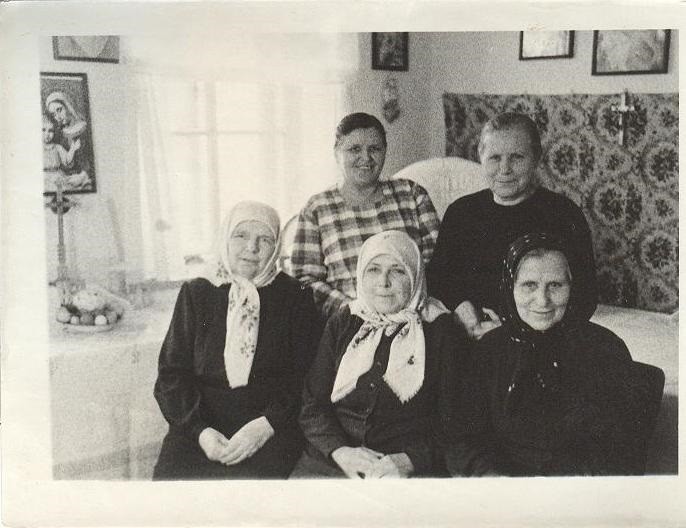 Gertrude Detzel was born on November 8, 1903 (according to some sources, in 1904) in the Caucasus in the village of Rozhdestvenskoye in a large family of a church organist. Even at a young age, she devoted herself to serving God and the Church, without being able to enter a monastery. Passed through a labor camp and imprisonment for anti-Soviet propaganda. Everywhere and always she used every opportunity to pray and introduce people to God. She prepared children and adults for the reception of the sacraments, saw people off on their last journey in accordance with Catholic traditions.
On August 7, the remains of Gertrude Detzel were exhumed, and were  translated from the cemetery to the Small Basilica of St. Joseph for canonical verification of the remains.
Prayer for the intercession of Gertrude Detzel for her beatification
God the Father, the source of all holiness, You sent Your Son to us to gather Your scattered children together. By Your inspiration, Your faithful servant Gertrude, taking care of preserving the Catholic faith and uniting believers in the difficult conditions of persecution in the vastness of the former Soviet Union, devoted all of herself to organizing church life among the many immigrants. Gertrude fearlessly used every opportunity to support every person in his pursuit of You, she was the first catechist and educator of some future priests and nuns.
We believe that even today she helps us with her prayer. Grant, we ask You, Almighty God, through her intercession, the grace (intention) necessary for me and make your servant Gertrude, who zealously serves You in her life, be beatified. You Who live and reign forever and ever. Amen.
Imprimatur †Adelio Dell'Oro, Episcopus Karagandensis