Pope Francis proclaimed five new saints on October 13th during the Extraordinary Missionary Month. Catholics believe in the communion of saints, in which there is a connection between those members of the Church who are physically alive and those who have already completed their worldly journey. There are ,many more saints in Heaven than those actually declared, and we will meet all saints later on if we are lucky enough. In the meantime, let's get acquainted with those who have already been recognized as saints here on earth. And today, the new name is Marguerite Bays.
The thread of life of blessed Marguerite Bays was closely intertwined with the life of Christ and the Virgin Mary. Marguerite was born on September 8 – the birthday of the Blessed Virgin Mary – in 1815 in the picturesque town of La Pierraz, a Swiss canton of Fribourg.
At the age of 16, Marguerite learned the profession of a dressmaking – a craft that became her occupation for the rest of her life. Marguerite saw her calling in service to God, but at the same time, one without getting married and professing religious vows. She made ends meet, offering the services of a seamstress, day after day moving from one house to another.
Fr Carlo Calloni – the postulator for Bays' canonization cause says that spiritual mentors advised Marguerite to choose a spiritual path and become a nun. But she always believed that instead of living in a monastery, it would be very fruitful, very useful to devote herself to God, while remaining in society, in the family and in the parish. In her free time Marguerite served as a catechist and helped young women who were about to start a family. How did a lonely woman know better how to start a family? Fr Carlo replies that Marguerite drew knowledge from her deep relationship with Jesus.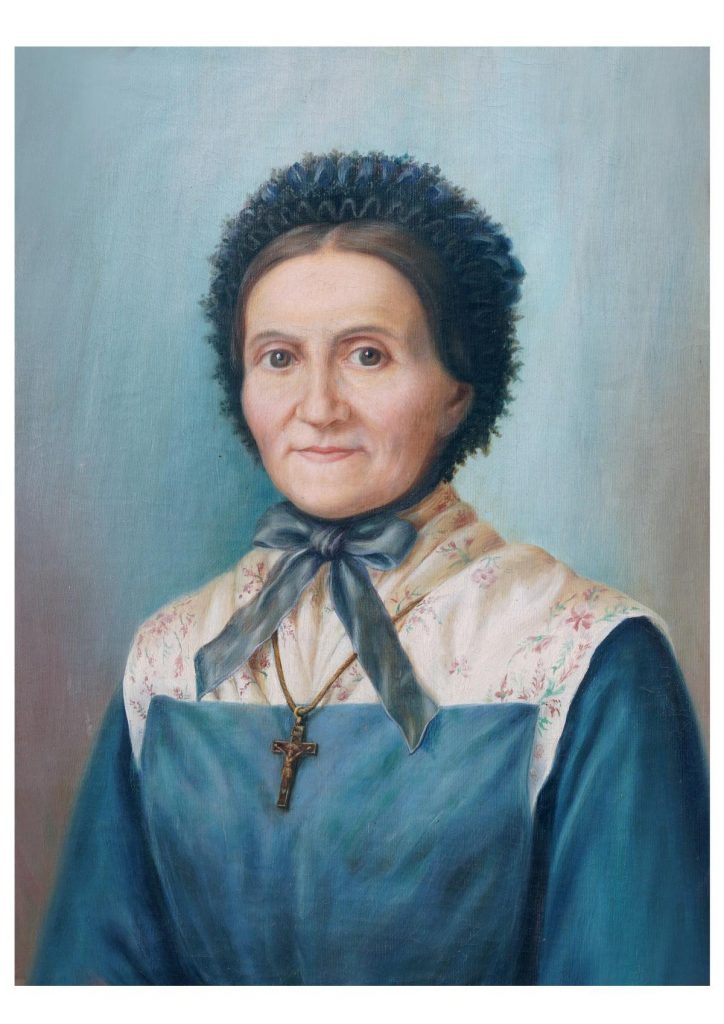 Nothing drew attention to the dressmaker from La Pierraz. She remained quiet and unnoticed. That was her intention. But the Lord's intention was different. In 1853 Marguerite was given a terrible diagnosis – bowel cancer. Instead of praying for recovery, Marguerite asked the Virgin Mary to share her suffering with the suffering of Jesus. On September 8, 1854, on his 39th birthday, the day Pope Pius IX proclaimed the dogma of the Immaculate Conception, and Marguerite was miraculously healed.
Father Carlo says that since the miraculous healing of cancer Marguerite became the proclamator of the Passion of Christ. Every Friday, Margarita endured suffering like the suffering of Christ. Marguerite also received the stigmata.
There is a historical conclusion by Dr Alex Pegaitaz on the health status of Marguerite. He was chosen to perform a medical examination, he being a 35-year-old doctor from the town of Bulle, famous for his scepticism and scientific approach. At about 3 p.m. on April 11, 1873, Dr Alex arrived in La Pierraz, and this is what he wrote in conclusion:
""What a misunderstanding! Amazing! I came across a supernatural and astounding state of stigmatized a human. This goes beyond science. Science cannot understand or explain this phenomenon".
The last 5 years of Marguerite's life were very painful. Her contemporary, deacon Francois Menetry, claimed that at the end of her life Marguerite lived only thanks to Holy Communion.
Sister Lutgarde Fasel, the Fille-Dieu Abbess and one of Marguerite's great-nieces, told another extraordinary story. This story was conveyed to her by Grandpa Jean:
""I will tell you something that I have never told anyone before. During her last illness, Marguerite was longing for the Holy Communion all night, and we tried, but could not fulfil her wishes. And the Lord took pity on His novice. An angel came and brought her Holy Communion. I saw this, and I myself could not believe what I saw".
Marguerite died on the feast of the Sacred Heart of Jesus, June 27, 1879. In 1995, Marguerite Bays was declared blessed by Pope John Paul II.
Father Carlo talks about the miracle that led to the completion of the process of canonization (the declaration of holiness). A two-year-old girl had fallen under a tractor wheel weighing 850 kg. The wheel drove along the entire length of the baby's body, but she remained unharmed. Doctors, examining the girl who was taken to the hospital, could only declare that she was absolutely healthy. The miracle happened through the prayers of the baby's grandfather. As Margaret's fellow villager, he had asked the blessed for intercession for his granddaughter.
Thus, a simple dressmaker from Switzerland, Marguerite Bays, serving the Lord through hard work and love, wove her life into the Divine life, and to this day continues to work from Heaven and weave the souls of those who ask for her intercession.
Text by Aleksey Gotovsky
Cover photo by Daniel Ibanez